Fileserver
Syn-3 is geschikt voor computernetwerken voorzien met Microsoft Windows 95/98/ME/2000 of XP. U kunt Syn-3 gebruiken in workgroup omgevingen zoals win98 of Windows XP Home maar u kunt Syn-3 ook gebruiken als PDC.
Let op: Het Administrator wachtwoord dient u appart in te stellen bij gebruikers beheer. Deze staat los van het SCC root wachtwoord!
Fileserver shares
Een share is een netwerk drive waar u vanaf Windows client bij kunt. (Ook wel drive mapping of delen genoemd)
Hier wijzigt u de instellingen die van toepassing zijn op afzonderlijke shares. In het overzicht zijn alle gemaakte shares weergegeven.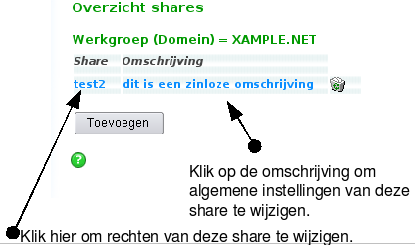 Nadat u een share heeft toegevoegd kunt u op de blauwgekleurde naam van de share om deze te wijzigen. In het volgende scherm kunnen de verschillende attributen voor de betreffende share gewijzigd worden.
Klik op de blauwgekleurde omschrijving van de share om deze te wijzigen.
Extra informatie
Attachments
(1)
Download all attachments as: .zip