Syn-3 traffic control achter de schermen
Basis traffic-control diagram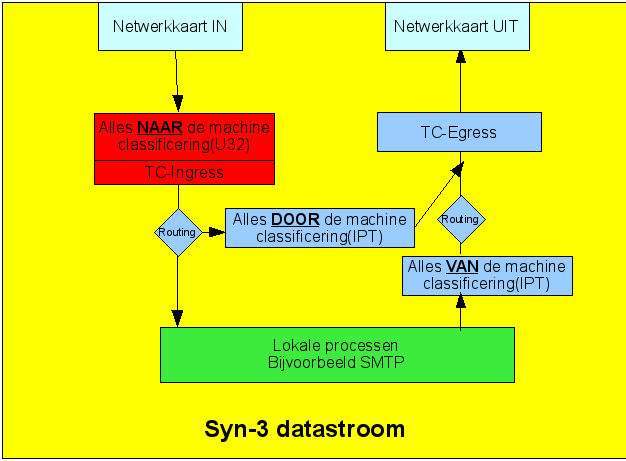 Opmerkingen:
Netwerkkaart IN en Netwerkkaart UIT kan physiek gezien dezelfde netwerkkaart zijn, maar ook 2 of meer verschillende.
Trafficcontrol regels van het type NAAR(rood) en DOOR(blauw) kunnen elkaar in de wegzitten, omdat alle verkeer wat DOOR de machine gaat ook NAAR de machine gaat.
NAAR de machine gebruikt een andere trafficcontrol methode(Ingress) dan tenopzichte van DOOR en VAN(Egress).
Elke netwerkkaart of VPN interface heeft zijn eigen TC-Egress en TC-Ingress.
Tunnel traffic-control diagram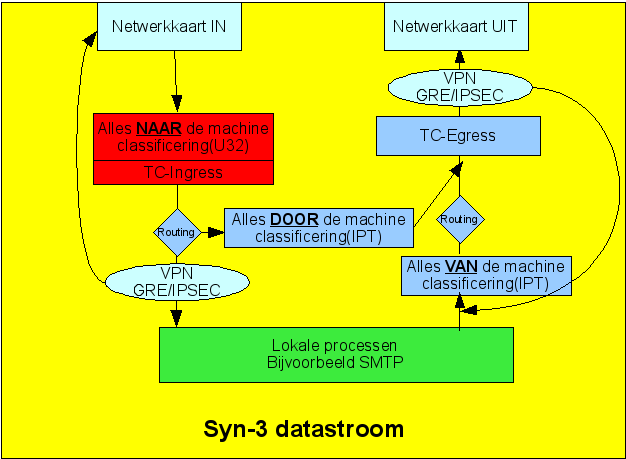 Opmerkingen:
Bij inkomende tunnel verkeer gaat de data 2 keer door het rode blok 'Alles naar de machine' heen en eventueel 1 keer door het blauwe blok 'Alles door de machine' heen of naar de lokale processen.
Bij uitgaande tunnel verkeer geldt dat de data minstens 1 keer door het blauwe blok 'Alles van de machine' heen gaat..
Zie ook
Attachments
(2)
Download all attachments as: .zip