Asterisk kopelling met sugarCRM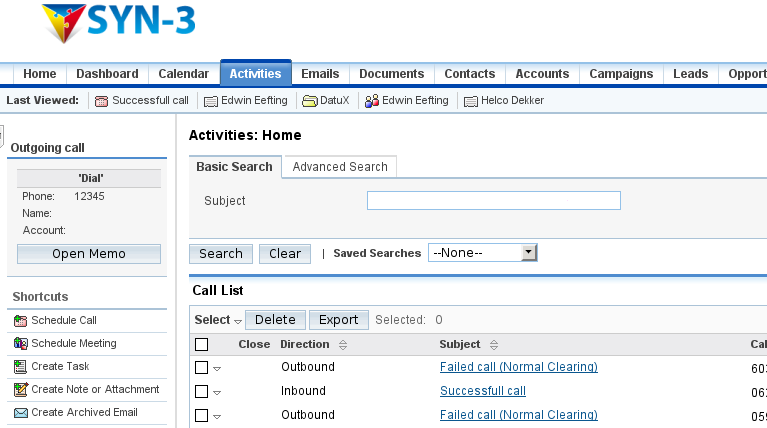 Asterisk/SYN-3 instellingen
Zorg dat poort 5038 in uw firewall open staat
Zorg dat het Asterisk manager password gezet is. (standaard admin/syn3)
SugarCRM instellingen
CLI
De module heeft helaas nog een aantal slordigheden waardoor deze 'hacks' nodig zijn om hem aan de praat te krijgen:
Voeg via de CLI de volgende regel toe aan /var/www/htdocs/syn3/sugarcrm/config_override.php:
$sugar_config['site_url']="http://localhost/syn3/sugarcrm";

Veranderd /var/www/htdocs/syn3/sugarcrm/.htaccess:
Verwijder modules en include uit de regel,zodat hij er zo uit ziet:
RedirectMatch 403 /+(soap|cache|xtemplate|data|examples|log4php|metadata)/+.*\.(php|tpl)


Admin panel
Login op sugarcrm als administrator
Stel het wachtwoord in op een willekeurige waarde. (hiermee veranderd alleen het sugarcrm wachtwoord in de database, niet het administrator wachtwoord in ldap!)
Installeeer via de module loader van sugarcrm: Sugar-Asterisk-5.2.0k--1.1.1.0-STABLE

2009-09-14-11-50.zip . (zie attachement)

Ga naar Admin->Asterisk configuration
Stel de settings zo in:

De dail context moet overeenkomen met uw dailplan naam. (met DLPN er voor)
De asterisk login is altijd admin
De SOAP-user is altijd administrator.
My account page (per user)
Ga naar My Account en zet daar de nieuwe Asterisk opties aan. Dit moet iedereen zelf instellen bij zn account:

CLI pluginn starten
Vervolgens moet de plugin gestart worden op de commandline:
[Syn-3] root@mail.bla.nl ~# php /var/www/htdocs/syn3/sugarcrm/Asterisk/asteriskLogger.php
**** asteriskLogger ****
# Version $Id: asteriskLogger.php 180 2009-06-12 10:16:16Z andreas $
# Sugar root set to [/var/www/htdocs/syn3/sugarcrm/Asterisk/../]
# PHP include path set to [.:/usr/php5/php:/var/www/htdocs/syn3/sugarcrm/Asterisk/../include]
# Callout prefix is []
# (Config processed)
# Successfully opened socket connection to kantoor2.datux.nl:5038
! Trying SOAP login endpoint=[/soap.php] user=[administrator] password=[abc87987b98798c79b897c8b7c]
! Successful SOAP login id= user=administrator GUID=
! Login action returned with rc=Asterisk Call Manager/1.0

! --- Event -----------------------------------------------------------
!                Event -->
! ---------------------------------------------------------------------

Het script doet geen goede error checking tijdens het inloggen. Let er op dat je geen SOAP errors ziet nadat er een telefoongesprek is geweest. Indien dit wel het geval is zullen calls niet correct gelogd worden in sugarCRM onder Activities->Calls.
Als alles werkt kan de plugin automatisch gestart worden mbv een /service/... run script:
[Syn-3] root@mail.server.nl ~# cd /service/
[Syn-3] root@mail.server.nl /service/asterisklogger# mcedit run
inhoud:
#!/bin/bash
exec php /var/www/htdocs/syn3/sugarcrm/Asterisk/asteriskLogger.php
[Syn-3] root@mail.server.nl /service/asterisklogger# chmod +x run
[Syn-3] root@mail.server.nl /service/asterisklogger# svstat .
.: up (pid 27260) 4 seconds


Attachments
(4)
Download all attachments as: .zip